Crab Island is one of the most talked about attractions in Destin, Florida
If you've ever visited the Destin area, chances are you've heard some mention of the popular sandbar. Indeed, Crab Island is one of our area's top summertime destinations. It has been photographed and aired on national networks and shows such as HGTV and Good Morning America, published in various travel magazines, and featured in publications across the globe. I would venture to say that Crab Island is the main reason Boating Magazine named Destin one of the 'Top 10 Places to Live and Boat' in the United States in 2020. One look at this photo, and it's pretty clear what makes Crab Island so unique: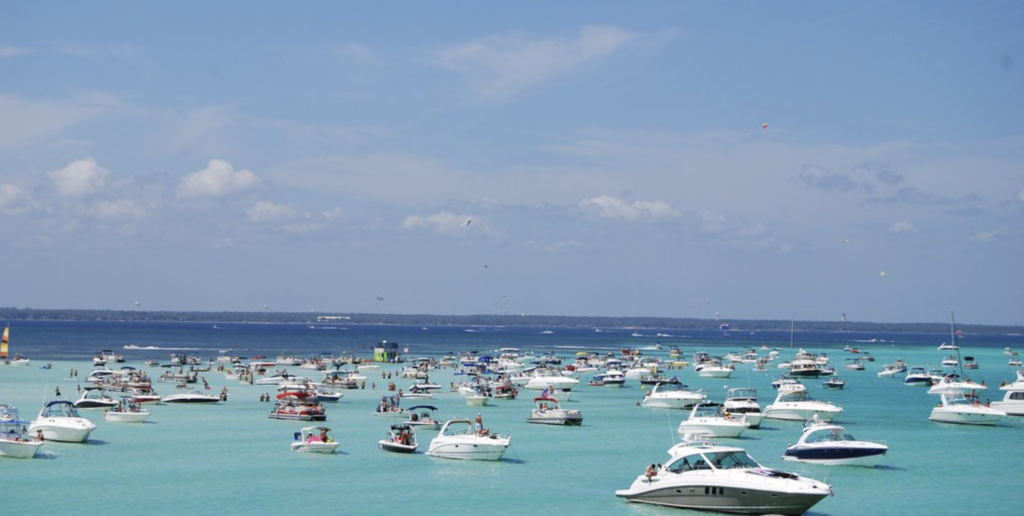 Its location is particularly unique because it is open to the tidal inflow and outflow of the crystal clear, emerald green water from the beautiful Gulf of Mexico, yet it is protected from the surf and waves that you would typically experience along the beach. Because it is located in the middle of a body of water, Crab Island is only accessible by boat.
Crab Island encompasses a huge area (approximately 4 acres) and is large enough for people of all ages to enjoy. There is always plenty to do and see when you get there, but the main point of going to Crab Island is just to relax and enjoy the atmosphere and natural beauty of the area! Some of the more popular activities include:
Relaxing on your boat while soaking up some sun
Paddling around the sandbar by kayak
Joining in a game of water volleyball
Snorkeling
Watching for dolphins and other marine life
There are also Crab Island excursions available that include additional activities like a stop at the nearby Gulf Islands National Seashore- where they have an inflatable water park that is only open to guests on the excursion, kayaks, paddleboards, and snorkeling- as well as a separate visit to the sandbar, as part of the experience.